Art Club for Grown ups!
Amidst the rain, wind, uncertainty and dullness outside, we are hopefully bringing you a ray of sunshine with an invitation to our Art Club - for Grown ups!
Creating visual art is a great way to reduce anxiety and stress. Think of it as a relaxing bubble bath for your mind.
Art is like a SUPERFOOD.
It makes you feel good and it does you good!
Mrs Vyse (our art coordinator) will post an idea each day for you to try if you fancy. It would be great if you shared your artwork, but if you feel shy, it's fine to keep it private!

In 2018, our amazing staff team created some doodle art together to brighten up our staffroom!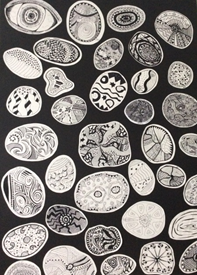 ---
Daily Art Tasks
Here are some of the prompts that you may choose to use to inspire your creativity:
| | | | | |
| --- | --- | --- | --- | --- |
| Hearts for the NHS | Loops! | Go dotty! | Beautiful Butterflies! | Checkerboard Patterns |
| Colourful Chaotic Circles | Wondrous Waves! | Rainbows | Scribble Art | Easter Ideas |
| Tiny Triangles | Circle Doodles | Inspiring Writing | Flower Power | Zany Zigzags |
| Swirls upon swirls | Bubblicious! | Bring me sunshine | Fish on Friday! | Five Lines |
| Rain Drops | Squares | Line Dancing | Abstract Mondrian | Feel Free |
| Wind! | Baked Beans! | Beads and Loops | VE Day! | Sensational Snakes! |
| Embellish a Stalk | Psychedelic! | Pebbles on the beach! | Walk the Line | Topiary Trees |
| Lovely Leaves | Spirals | Tree trunks | Spin a web | All you need is love |
| Wiggly Worms | Sunflowers | | | |
---
To submit any examples of your own work, please email a photo to our art coordinator Mrs Vyse by clicking here: sheila.vyse@warden-house.kent.sch.uk
Here's to creativity!
Mrs Vyse x
---
Our Grown ups' Art Gallery
These galleries below show a selection of responses to the tasks posted above. We think they look great! Thanks to all who have submitted their work. We will keep adding galleries as time goes on. Check back regularly for further updates.